The St. Louis Herb Society will begin to sell its newest publication, Herbs A to Z,  at the Missouri Botanical Garden Gate Shop.  The 56-page book introduces young readers to stunning hand-drawn herbal illustrations, facts and stories surrounding each of the herbs.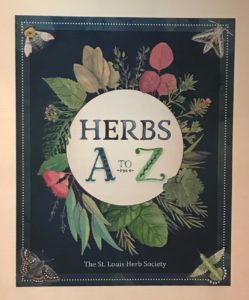 The St. Louis Herb Society's Speakers Bureau will present free community talks at the St. Louis County Public Libraries as follows:
December 9, "Holiday Decorating with Herbs" at 2:00 p.m. Daniel Boone Branch, 300 Clarkson road, Ellisville, Mo. 63011
The St. Louis Herb Society will again hold its annual Herb Sale in the Ridgway Center of the Missouri Botanical Garden from Thursday, April 26 through Saturday April, 28.  Click here for additional information.