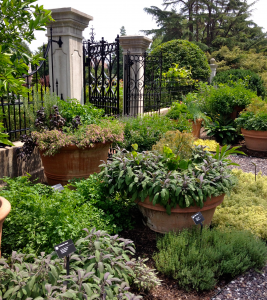 The Herb Garden is located on the south side of the historic Tower Grove House (Henry Shaw's country home) at the Missouri Botanical Garden (MBG) and was completely renovated in 2004. With the cooperation of the MBG, the Herb Society members designed a garden featuring hundreds of "plants with a use". Completely new irrigation and drainage systems and soil from the Missouri-Mississippi confluence enable herbs to thrive.
The Herb Garden is our outdoor classroom. Four areas are devoted to highlight a specific use: culinary, medicinal, fragrant, and utilitarian herbs. Parterre gardens showcase silvery plants, while display areas feature unusual varieties of lavender, rosemary, basil, and sage
Recently, an area of container gardens was installed on the southern side of the Garden, outside the cast iron fence. Each container features a specific recipe using the herbs grown in that container. The Container Garden Recipes can be accessed by a 2-D barcode in the container or under the Recipes tab on this website.
Herbs grown in the Garden are used in TSLHS education classes, and for making various crafts, potpourri, bouquet garnis, tussie-mussies, and other applications.
Two sculpture areas are included: a sundial statue in a bed of thyme, and a millstone fountain surrounded by bright flowering annuals.
TSLHS members work in the Herb Garden on Tuesday mornings from April through October, from 8 to 10 a.m., weather permitting, and are available to answer any questions.